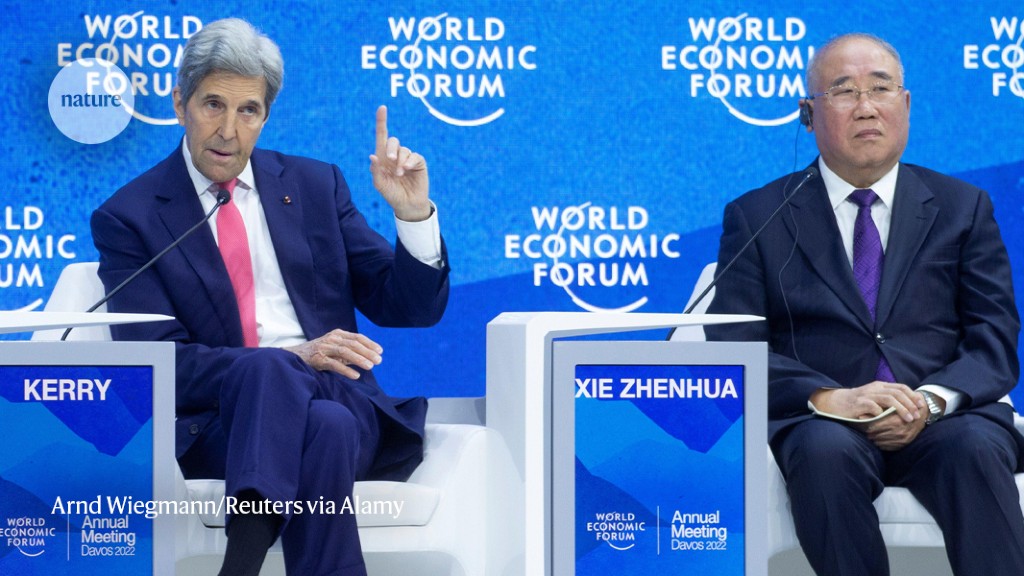 Does a freeze in US-China climate talks threaten global action?
Cooperation between the United States and China on global warming has been hit hard after the Chinese Foreign Ministry suspended climate talks with the United States. The decision came in response to last week's high-profile trip to Taiwan by Nancy Pelosi, US Speaker of the US House of Representatives, which China says violated its sovereignty. The researchers say a temporary freeze on talks will likely only affect high-level political engagements, but a longer standoff could have a chilling effect on academic collaborations.
"Climate talks have always been somewhat shielded from the turbulent bilateral politics between the United States and China," says Li Shuo, policy adviser at Greenpeace China in Beijing. "But last Friday's announcement took that relationship to a whole new place."
The talks between the world's two largest emitters of greenhouse gases are important to advancing global action on climate change, the researchers say. Both countries have demonstrated their commitment to solving the problem within their borders: over the weekend, the US Senate passed a massive spending bill to invest in clean energy technologies, and the China has promised to become carbon neutral by 2060. But cooperation between the two countries could accelerate action during this decade, particularly in areas such as reducing methane emissions.
A prolonged rift between the two could also threaten the success of talks at the next round of global climate talks in Sharm el-Sheikh, Egypt, in November. Meetings between the United States and China have been crucial in facilitating multilateral consensus at previous summits, said Fei Teng, a climate policy researcher at Tsinghua University in Beijing. "I hope China and the United States can resolve this dispute soon and return to normal routine."
If the communications freeze continues until then, Li Shuo anticipates a more politically contentious climate summit in Egypt. But others think these multilateral engagements are likely to continue.
Joint agreement
Climate change talks between the two countries intensified when US President Joe Biden took office in January 2021, after being on the back burner for several years.
In April, climate envoy John Kerry became the first senior Biden administration official to visit China, meeting with Xie Zhenhua, China's climate change representative. A second trip followed in September, and at the climate summit in Glasgow, UK, in November, the two countries signed a joint declaration to step up climate action in the 2020s, including setting standards to reduce emissions by deploying carbon capture and storage technologies. , and measuring and monitoring methane emissions. Kerry and Xie met again at the World Economic Forum in Davos in May. The researchers say China's suspension is currently limited to talks between Kerry's and Xie's teams.
Some researchers do not expect the heightened tension to affect climate action. The global nature of the problem means that even if the two countries don't talk to each other, "it's not going to destroy the entire global climate change agenda," says Sha Yu, an energy researcher at the University of Maryland at College Park. And both countries have taken steps to fulfill their global commitments. Earlier this month, China released a plan for high-carbon industries such as steel and cement to peak carbon emissions by 2030.
But in their joint Glasgow statement, the two countries recognized that cooperation was needed to accelerate climate action, notes Barbara Finamore, who studies environmental policy and law with a focus on China at Oxford. Institute for Energy Studies in the UK, and which is based in Londonberry, New Hampshire. If national action was sufficient, "the two countries would not have seen the need to work together in the areas that are problematic for them", she says.
And Russia's invasion of Ukraine in February has already pushed climate to the top of the global agenda, says Yan Qin, an Oslo-based carbon economist and analyst at Refinitiv, a company that provides climate data. financial markets. At the same time, the conflict has also contributed to climate action, as it has brought energy security to the forefront, prompting many countries, including China and the United States, to accelerate their transition away from fossil fuels, Qin adds.
cold effect
The researchers say diplomatic tensions have so far not affected academic interactions. Teng thinks it's likely that discussions with researchers who work closely with the Chinese and US governments to inform high-level policy decisions, such as on methane, will continue. But he notes that collaborations had only just begun to grow under Biden's administration.
There is also no sign that further interactions driven by the scientific community will be stopped. Fan Dai, director of the California-China Climate Institute at the University of California, Berkeley, which supports joint climate policy research in California and China, said the institute's work, including on mitigation projects methane gas involving the State of California and the Chinese Ministry of Ecology and Environment, will continue.
But some researchers say that if the stalemate drags on, academic collaborations will be affected, and scientists will be reluctant to forge new partnerships. The Glasgow Accord was a political signal that such collaborations are acceptable, says Finamore.
From now on, "Chinese research institutions and their leaders will wonder whether or not they are creating problems by continuing, unless they receive a very clear message that the status quo is accepted," says Julio Friedman, scientist in chief at Carbon Direct, a company in New York that offers carbon investment services. Friedman is based in the San Francisco Bay Area, California.
Many researchers, including Sha, are still waiting to determine the implications of their ongoing collaborations. "It's too early to tell," she said.